International Family Law Conference
27-28 April 2023
Abu Dhabi, United Arab Emirates
We extend a warm welcome to family lawyers wishing to attend our conference in Abu Dhabi on Thursday 27 and Friday 28 April 2023.
The 1.5-day event will cover a range of international family law topics, and is aimed at family lawyers from all jurisdictions around the world. The conference will consist of lectures and panel sessions from over 20 top family law solicitors, barristers and Judges. The learning sessions will be interspersed with coffee breaks, lunches, drinks and dinners to enable delegates to meet each other and forge professional relationships and friendships.
You will hear about:
the new family laws and practices in Dubai and Abu Dhabi which is essential learning for all practitioners advising on cases involving the Middle East
family arbitration schemes around the world, with a particular focus on the new Abu Dhabi family arbitration scheme for expats; and
asset protection schemes in the Middle East, mediation, prenuptial agreements, enforcement and jurisdiction issues
The conference will have a strong practical approach. Our aim is to give delegates practical guidance and understanding that will assist their day-to-day practices, regardless of the jurisdiction that they practise in.
The conference will culminate in an optional afternoon and evening trip to a tented camp in the Abu Dhabi desert for dune boarding, camel riding and dinner.
Abu Dhabi is a wonderful place to visit in April, when the weather is perfectly warm and pleasant. The conference is a great opportunity to visit the Louvre Museum of Art and the famous Abu Dhabi mosque, both a short taxi ride from the conference hotel. Abu Dhabi is an hour from Dubai by car (without a border), or a short flight from Oman, for those wanting to extend their trip.
Please do reach out to alexandra@expatriatelaw.com for any recommendations.
Alexandra Tribe
Managing Partner, Expatriate Law
Financial remedies for separating expats – Practical tips and guidance for international family lawyers
Sassa-Ann Amaouche
Barrister, 29 Bedford Row
Alexis Campbell KC
Joint Head of Chambers, 29 Bedford Row
Brent Molyneux KC
Barrister, 29 Bedford Row
The new civil family laws in the UAE and their application in the Abu Dhabi Civil Family Court
Dr Lena-Maria Möller
Visiting Professor of Islamic Law, University of Münster
The Abu Dhabi civil family court – 6 months in
Abu Dhabi Judicial Department
Judge Joshua and Muna Al Raeesi
Byron James
Partner and Head of UAE, Expatriate Law
Child abduction in the UAE
Dr Hassan Elhais
Legal Consultant, Al Rowaad Advocates
Mukhtar Gharib
Senior Advocate, Founder & Managing Partner, Al Gharib & Associates
Reem Al-Zadjali
Founder, Reem Al-Zadjali Law Firm
Asset protection methods in the Middle East

Andrew Lyons
Partner, Davidson & Co Law Firm
Dipali Maldonado
Senior Consultant, Al Tamimi & Co
Yann Mrazek
Managing Partner, M/HQ
Cynthia Trench
Principal, Trench & Associates DMCC
Lily Mottahedan
Barrister, 1 Hare Court
Family mediation: a global perspective
Beverley Clark
Senior Director, Clarks Attorneys

Melissa Kucinski
Owner, MK Family Law
Hero Lomas
Partner, Expatriate Law
Engelin Teh SC
Senior Counsel and Managing Director, Engelin Teh Practice
David Truex
Senior Consultant, Expatriate Law
Towards a worldwide family mediation profession
Professor David Hodson OBE KC(Hons)
Co-founder and Partner, The International Family Law Group
Forced marriage and stranded spouses – Risks and remedies
Teertha Gupta KC
Specialist Senior Barrister, 4 Paper Buildings
Reverse leave to remove applications (and why they are preferential to child abduction)
William Tyler KC
Joint Head of Chambers, 36 Family
Prenuptial agreements – International considerations
Oscar Smith
Senior Associate, Expatriate Law
Arbitration and expat cases
Duncan Brooks KC
Barrister, Arbitrator, Collaborative Lawyer, QEB
Morgan Sirikanda
Barrister, QEB

Religious marriages – current treatment by the English court & proposed changes
Nazia Rashid
Solicitor and Mediator, Rayden Solicitors
Enforcement of children orders in India
Anil Malhotra
Managing Partner, Malhotra & Malhotra Associates
Ranjit Malhotra
Managing Partner, Malhotra & Malhotra Associates
Closing remarks followed by tea & coffee break
Alexandra Tribe
Managing Partner, Expatriate Law
About Abu Dhabi
Abu Dhabi is the capital of United Arab Emirates. It is a city built on over 200 islands, all nestled into the sun-kissed sands of the Arabian Gulf. Boasting some of the world's most beautiful landscapes, Abu Dhabi is made up of three main regions (areas) – the UAE capital city and its surrounds, Al Ain (Eastern Region) and Al Dhafra (Western Region). Thanks to its geographically diverse scenery and rich culture and history, the districts within these regions are a dream to explore. Enjoy exquisite desert sunsets in the Empty Quarter, kayak through mangrove forests, marvel at ancient UNESCO World Heritage sites, visit awe-inspiring architectural landmarks, museums and galleries, wander beneath palm trees in centuries-old oases, go wild at adventure and theme parks, relax at luxury resorts and shop in some of the world's best shopping malls.
The city has busy calendar of events throughout the year. From endless shopping and cultural tours, to desert excursions and wildlife parks for nature lovers, there's something for everyone.
Plan your trip
The official Abu Dhabi website has a wealth of information for planning your ideal trip.
The UAE is four hours ahead of UTC (Coordinated Universal Time, formerly known as GMT) and there is no daylight saving.
For more information about travelling to Abu Dhabi, exploring the emirate and more about the culture of the UAE, check out Visit Abu Dhabi's  handy essentials guide.
Visa
Before you travel it is worth understanding the visit visa regulations of Abu Dhabi. Visas are available free of charge from citizens of most countries, however, you can find out more information about visas for peace of mind.
Local airports
Abu Dhabi International Airport is approximately 30 minutes away by car and a number of airlines operate from this airport.
Dubai International Airport is a viable alternative and is about 1 hour 15 minutes away by car. A taxi to the conference venue or area from Dubai airport costs approx AED300/GBP60 and no prior booking is required. However, if you'd like some assistance with booking a car, please do get in touch – info@expatriatelaw.com.
Flights to Dubai currently appear to be cheaper, with direct flights available from London from GBP500 and indirect flights from GBP300. (updated 31 January).
Getting around
Taxi is the easiest and most comfortable way to get around Abu Dhabi. There are almost always a string of taxis outside each hotel or mall, and they can be flagged down on the street (you will see their yellow taxi light) or your hotel concierge will flag one for you. The local Abu Dhabi taxis are the cheapest – have cash ready to pay them and tip the driver. 10-15% of your journey will be warmly accepted. Expect to pay less than £5 for a 10-minute journey. Do not expect the drivers to know exactly where you wish to go – if you have your phone and can show them a map, that will be helpful.
You can also use Uber, but expect to pay more than the local taxis, as these are usually luxury cars. www.careem.com is another alternative if you would like to order a taxi in advance using the Careem App which can be downloaded on your mobile.
While in Abu Dhabi
Abu Dhabi is a wonderful and cultural place to visit. We highly recommend a trip to the Louvre which is a short 15-min taxi ride away. The Louvre also has wonderful terrace bars and restaurants. You may wish to try a kayak trip around the waterways at the Louvre.
The Grand Mosque in Abu Dhabi is magnificent. Please see their website take note of the dress required.
For shopping, the Galleria Mall is two-minutes' walk from the Rosewood Hotel and is a modern mall on many floors.
The Old Souk (is in fact modern and new!) at Old Souk, 405 Hamdan Bin Mohammed St (12-min taxi ride from Rosewood Hotel) sells spices, regional clothing, and souvenirs.
Try a traditional Hammam spa treatment at the Four Seasons or Rosewood Hotel, or have your nails done in one of the salons in the Galleria Mall (https://www.nstyleintl.com/ offer a massage while you have your nails done!).
Conde Nast Traveler has a great summary of some of our favourite things to do in Abu Dhabi.
Dress 'code' for women in Abu Dhabi
Abu Dhabi is an extremely safe place for women; people are very respectful to women in the UAE.
The UAE has an expat population of over 90%, and as a result are very used to visitors. Although Abu Dhabi is a bit more conservative than its neighbouring emirate Dubai, it is still relaxed. On the whole, visitors dress much as they would in any hot country, but it is customary and respectful to avoid wearing very short shorts or skirts and cover the shoulders. Bikinis and swimsuits are fine on the beaches and by pools.
Booking Your Accommodation
We have secured a number of preferential rates for guests of the conference. You can view the information on the hotels below. Make your reservation with the special rates by clicking on the button below for your preferred hotel.
The conference will be held at The Rosewood hotel, and the conference dinner will be at The Four Seasons. All hotels listed below are within easy reach of each other, 5-10 minutes on foot.
Located on Al Maryah Island at the core of Abu Dhabi's new Central Business District, Rosewood Abu Dhabi will host the International Family Law conference 2023.
It has been recognised as one of the best places to stay and eat in Abu Dhabi by the world's leading publications, travel magazines and consumer organisations.
Special room rate for stays between Wednesday 26 April to Monday 1 May 2023 (check-out on Tuesday 2 May 2023):
Deluxe room, single occupancy: AED793.10 (approx £182)
Deluxe room, double occupancy: AED894.50 (approx £205)
*Book by 28 February 2023 to secure this special rate. Subject to availability at the time of booking. Rates are inclusive of breakfast, taxes and service charge.
Rooms can be booked via the booking link below or by contacting the hotel directly.
Four Seasons Hotel Abu Dhabi at Al Maryah Island
The venue for our conference dinner, Four Seasons Abu Dhabi Hotel on Al Maryah Island stands out at the edge of the Arabian Gulf.
The definition of luxury, it provides an ultra-modern sanctuary in the heart of Abu Dhabi with expansive views of the city skyline and the Arabian Gulf. The Four Seasons is only a five-minute walk from the conference venue (the Rosewood Hotel).
Special conference room rate available for stays between Wednesday 26 and Sunday 30 April 2023 (check-out Monday 1 May 2023):
Deluxe Room King, single occupancy: AED987.63* (approx £227)
Deluxe Waterfront King, single occupany: AED1,113.13* (approx £256)
Executive Suite King, single occupancy: AED1,897.50* (approx £436)
Promo Code: ELG260423
Steps to book room:
Click on the below button to be directed to the Four Seasons booking website.
Click on 'Check Rates' button on top right of website. Enter your chosen dates, number of adults staying and the promotional code (ELG260423). Click on 'Check Rates'.
Select a room to proceed with your booking and payment.
*Book by Monday 27 March 2023 to secure this special rate, subject to availability at the time of booking. Rates are inclusive of premium internet access, buffet breakfast, taxes and service charges. An additional fee of AED125 will apply per room per night for double occupancy.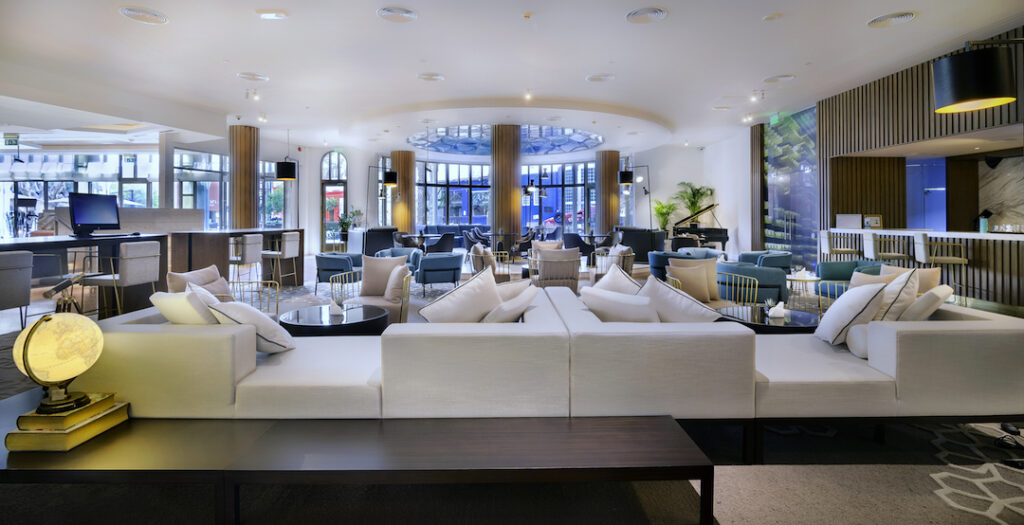 Situated in the heart of Abu Dhabi, Le Méridien Abu Dhabi is a seven-minute walk across the bridge from the conference venue on Al Maryah Island.
Find refuge in one of 248 newly renovated and spacious guest rooms. Le Méridien Abu Dhabi features a wealth of wellness comforts with a fully equipped gym, spa, pools, access to a beautiful private beach and 12 exceptional restaurants and lounges. Verdant winding walkways connect a picturesque village of eating places and guest rooms.
Special conference room rates are available for stays between Sunday 23 April and Sunday 30 April 2023 (latest check-out at this rate by Monday 1 May 2023).
Deluxe Guest Room with King-size bed: AED400.29* (approx £92)
*Book by Sunday 1 April 2023 to secure this special rate. Subject to availability at the time of booking. Taxes and service charges are included in the above room rate.
Important: Please use Google Chrome browser to make the booking as other browsers will show an error message.
The conference has now finished.

Thank you to everyone that attended the conference. We look forward to sharing with you details of future events in due course.
Coffee breaks morning and afternoon on the 27 and 28 April
Welcome coffee break
French style cheese croissant
Miniature apple pocket Danish
Vanilla cookies / oatmeal cookies
Jiggery and honeycomb
Chef selection of two seasonal whole fruits
Afternoon coffee break
Chicken shawarma sandwich wrap
Chef selection of eclairs
Cheese fattayar/ shrimps wonton
New York cheesecake
Lunches on 27 and 28 April in the Rosewood Ballroom
Cold appetizers & salad
Fattoush
Mutabal baba ganoush
Grilled halloumi with figs and rocket
Tomato and mint-flavored quinoa salad
Peppered mackerel with green apple salad
Assorted garden greens with selection of dressings
Leek and potato soup with chives
Main Courses
Chicken cordon bleu, turkey ham and emmenthal
Roasted fish with asparagus and saffron lemon butter
Rice pilaf
Buttered seasonal vegetables
Potato hara with lemon and chili
Penne arrabiata
Desserts
Chocolate temptations
Peanut butter cheesecake
Mouhalabia
Seasonal fruit Salad
Bread & butter pudding (hot)
Sponsored Pre-Conference Drinks Reception – free
26 April 2022, 7-8:30pm
We are delighted to invite all delegates to a welcome drinks reception on the evening before the conference, 26 April from 7pm. It will be at the stunning Glo terrace at Rosewood Hotel on Al Maryah Island, Abu Dhabi. Al Rowaad Advocates and Al Gharib & Associates (both UAE law firms) are generously sponsoring the tacos and shawarma food stations, and Expatriate Law is sponsoring the drinks.
Dress code: Smart casual, light and cool clothes. No need for jackets.
Dinner at the Rosewood Hotel – £100
27 April 2022, 9-11pm

We warmly invite you to join us for the conference dinner which will be held at the elegant Rosewood Hotel Abu Dhabi on Al Maryah Island. Tickets for the Conference Dinner may be added to your chosen package during the registration process and the cost per ticket is £100.
The Conference Dinner will be held in a private function space and offers you an excellent chance to make connections with other conference participants from around the world over delicious food.
This is a ticketed event and there are a limited number of places, so please book early to avoid disappointment. Extra tickets may be purchased for guests if desired.
Dress code: Cocktails dresses for women and jackets and open collars for men.
Desert excursion – £45
28 April 2022, 3:30-9:30pm

When in Abu Dhabi, you don't want to miss the opportunity for a memorable desert excursion. This is a ticketed event and there are a limited number of places, so please book early to avoid disappointment. Extra tickets may be purchased for guests if desired.
Dress code: Casual wear, trainers or sandals and bring warm clothes for the evening. The desert gets cold when the sun goes down.
What's included:
Pickup by 4×4
4×4 Dune Drive (Desert Safari)
Camel farm visit
Sand boarding
Camel ride
Henna painting
Arabic costume for taking photos
Tea, coffee, Arabic coffee
Water, soft drinks
Henna tattoo
Desert sunset
Belly dance
Tanourah dance
BBQ buffet dinner
Shisha
Drop off
Optional extra:
Quad bike (AED 50/USD 13.62 For 10 Minutes, payable on site)
Tour provider: